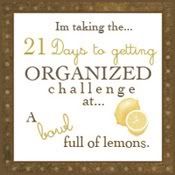 My quest to get organized continues for day 2! (Well, it's MY day 2...the challenge is actually on day 4 I think). Up today? Under the sink. I was so excited to get this disaster cleaned up that I forgot to take the "before" picture. I did take a picture of the piles of cleaners, rags and bags after I emptied it. Just picture all of that thrown under the sink in total disarray. So here's a picture of the almost "before."
Here's the empty cupboard, all washed down and ready for pretty new contact paper:
And finally, the "After":
I still want to get the bottle-holder shelf thingies they sell at Wal-Mart that screw on to the back side of the cabinet doors. I saw them at A Bowl Full of Lemons (hosting this crazy organization spree on her blog). That should clear up even more space under the sink. I had to run to Target today though and no way do I have the time or the mental capacity to hit Target AND Wal-Mart in one day. That back-of-door metal shelf/container idea will have to wait for another day.