Raindrops on Roses, Whiskers on Kittens....
I'm sitting here watching one of my new favorite shows and it inspired to me to list out all of my latest favorites. Here goes...
Modern Family
-
soooo funny!
Glee
-
LOVE, LOVE, LOVE! Maybe it's the show choir Mom in me...or maybe it's because I have really good taste and this show is AWESOME!


Kock-Off Wood
-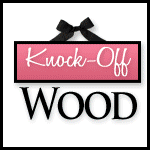 I heart Ana! We are 3/4 of the way through with our first project, a knock-off of the Simple Bed from Land of Nod...but way sturdier and way, WAY cheaper. When that's done, then we're on to a looooooong list of other projects. So much fun!

Etsy
- Can't get enough of people's creativity! I could shop here all day, every day. (but I won't - don't worry, honey)

Mod Podge -
Decoupage goodness! So another recent favorite is this blog -
Mod Podge Rocks
My favorite girls on American Idol this season.

Incredible Pizza Company
-
Good, clean family fun!

Goodwill
and thrift store "hunting" in general.


My new travel coffee mug.
The picture doesn't do it justice..the most beautiful green you've ever seen! I'm into green lately - LOVE it!
Of course there's more...but I'll save it for another post on another day.